Maarten van Dongen
Maarten is a Microbiologist by education. After his academic promotion in Biochemistry, he worked in the pharmaceutical and biopharmaceutical industry within and outside the Netherlands. He then devoted himself to valorising the Life Sciences for social issues.
"Since my study of Microbiology in Groningen, I have been fascinated by my profession, not as a scientist, because that's not me, but as a person who wants to use his profession and expertise to make the world a little better."
Molecular and Medical Microbiology at the University of Groningen
I remember well how I first came into contact with Molecular Microbiology in my study. How I investigated how bacteria actually 'work', are built up and continue to exist. At the Department of Medical Microbiology in the Academic Hospital of Groningen, I spent a long time researching how bacteria, and especially their harmful components, are broken down in the human body. And how antibiotics prevent damage from bacteria. Later in my professional life I would pick up again the subject of Microbiology.
Resistant bacteria on farmed fish originating from Asia?
At the request of the Netherlands Food Safety Authority and the former Dutch Ministry of Agriculture, Nature and Food Quality (LNV), in collaboration with Wageningen University and Research, we investigated the occurrence of resistant bacteria on farmed fish originating from Asia. It is known that in those countries  antibiotics are often used in the farming of fish. I remember that we bought farmed / imported fish from all kinds of shops, market stalls and also from salmon importers. The CVI in Lelystad then isolated the bacteria and checked which antibiotics they were resistant to.
Describing the rise of resistance in a mathematical model
Later, in collaboration with the University of Amsterdam and Utrecht University, we investigated the mechanism of resistance development and how to describe this mechanism in a mathematic model. For this project we used bacteria which are of interest in veterinary health. We bred the bacteria, added different type of antibiotics in different doses and examined when the bacteria no longer reacted to the used antibiotics. Next the mathematicians were able to capture the fast-growing stack of data in mathematical models that adequately describe the development of resistance. The research yielded three international publications!
Jointly developing new antibiotics
In 2015, we advised the Ministry of Health, Welfare and Sport how to collaborate in the Netherlands on the research and development of new antibiotics. At that time there were many initiatives in the Netherlands which were involved in the development of new antibiotics. Our advice led to the establishment of the NADP: the Netherlands Antibiotics Development Platform.
Insight into the resistance problem
All of the abovementioned projects gave me a lot of insight into the complex problem of resistance. And they also made me realize that resistance is a collective challenge. A challenge that professionals in Health, Nutrition and Environment will increasingly face.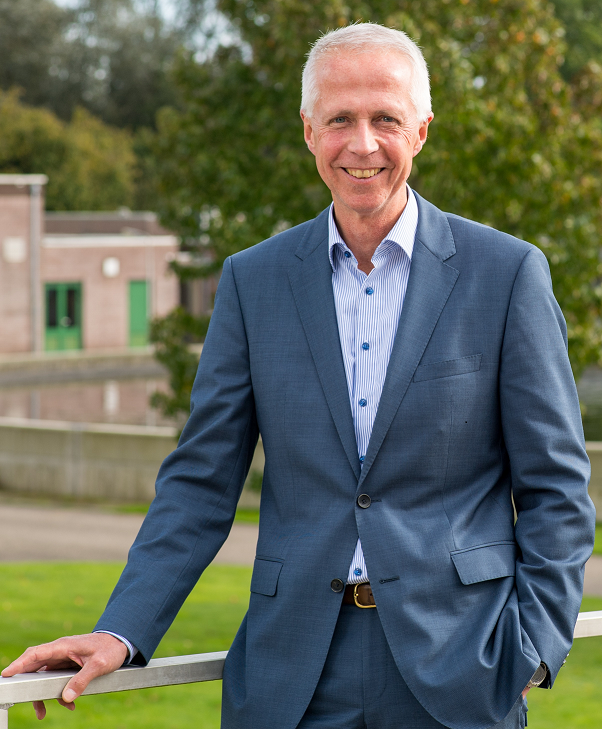 Professionals help combat resistance
It is my mission to make the more than two million professionals in Europe dealing with the resistance problem more aware of the resistance problem. Making them realize that they have a role to play, each in their own way. And by supporting them where possible by providing information and making data available. But also by interpreting information and by giving a meaning to it, by connecting data, analyzing and making better use of data. So actually by better organizing the information flows.

Antimicrobial Resistance is a collective problem
AMR or Antimicrobial Resistance is a global and above all a collective problem. A collective problem with an 'inclusive' solution where everyone has his or her own role to play. In that respect, it looks like the problem of climate change: we all have to deal with it and we can all contribute to the solution. The challenge is to induce this individual consciousness and to appeal to individuals for their individual responsibility for such large, collective problem. That starts with a proper explanation: what are micro-organisms, what can antibiotics do and what is the resistance problem? Hence the course on Microbial Resistance that we offer.
Information, data and knowledge against resistance
Information, certainly new information, is of decisive importance in addressing the resistance problem. What new resistances are there, are there new guidelines or new antibiotics? Or new tests to quickly identify resistant or non-resistant bacteria. Existing data are also of vital importance: which resistances have been descibed before, what do we know about these, what do we know about the antibiotics used and can we make connections? Such that we can prevent resistances the next time. Not only new information and data are important, but also knowledge and insight. Of great importance to recognize, record and share these.
ICT for quickly sharing information, data and knowledge
ICT and certainly the internet make it possible to quickly find new information and to target it to the relevant professionals. Such that a new test for bacteria discovered in Japan will appear tomorrow, or rather tonight, in the digital inbox of a company in Friesland. ICT makes it also possible to connect and enrich data. Such that insights can be brought together at the touch of a button. Such that we can analyze big data and recognize connections and relationships for descriptive, predictive or even prescriptive conclusions.

Towards a joint Information Platform AMR
In 2016 we conducted an extensive preliminary study for setting up a new Information Platform AMR. In  December 2016 we concluded that it would be both desirable and technologically feasible to set up such a platform. Further it appeared to be economically feasible to maintain and operate such a platform. The new platform will focus on providing targeted news and information, unlocking and linking relevant databases and on the analysis of big data in the field of AMR.
Core team with 10 Dutch organizations
To investigate and set up the new Information Platform AMR, we have found 10 Dutch organizations willing to join forces. These organizations, including CeSAM (UMCG / RUG), TNO, Deltares, STOWA, Ducares, DSM Sinochem, Innovative Medicines Association, SWAB and NVWA, formed the Core Team, the leading platoon.