AMSTERDAM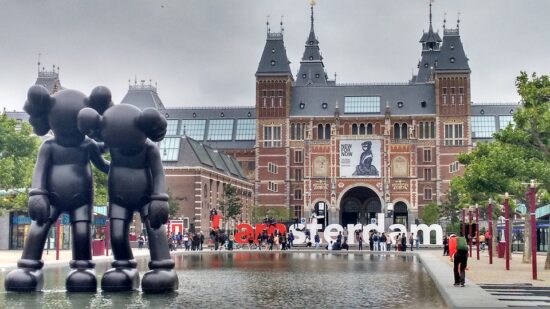 Amsterdam is the (titular) capital of the Netherlands. The city, also called Mokum in Amsterdam (derived from Yiddish), is located in the province of North Holland, on the IJ, the North Sea Canal and the Amstel estuary. Amsterdam is the largest municipality in the Netherlands by population, with a population of 905,234 (January 31, 2022, CBS). Greater Amsterdam has 1,394,998 inhabitants. The number of different nationalities in the municipality is among the highest in the world.
Amsterdam gets its name from its location near a dam built in the 13th century on the Amstel River. The place received city rights shortly after 1300, became a place of pilgrimage in 1345 due to the Miracle of Amsterdam, and grew into one of the most important port and trading cities in the world during the Golden Age. An influx of foreigners, especially from the Southern Netherlands, Germany and Scandinavian countries, led to city expansions from the late 16th century onward, including the last canals of the fortification now known as the ring of canals, which was added to UNESCO's World Heritage List in 2010.
Sights and attractions in Amsterdam include the Rijksmuseum, the Stedelijk Museum, the Van Gogh Museum and Het Scheepvaartmuseum, the Anne Frank House, the Concertgebouw, Muziekgebouw aan 't IJ and EYE Film Museum, Artis Zoo, coffee shops and the Johan Cruijff ArenA. The city has two universities and several colleges.
More information on Amsterdam is available at IAMSTERDAM.