AMR Hotspots UK: map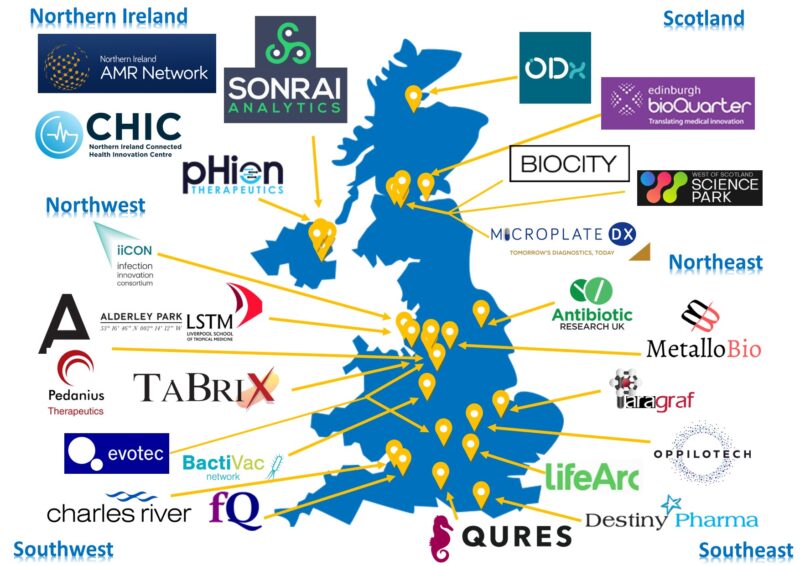 Northern Ireland
Northern Ireland AMR Network—A Network of academics, business and public bodies, pro-actively collaborating to tackle the challenges of drug-resistant infections.
CHIC—Northern Ireland Connected Health Innovation Centre
pHion Therapeutics— Strives to pioneer therapeutic vaccines and improve the landscape of AAV manufacture. pHion has created a simple, self-assembling drug delivery system that is easy to use, cost effective and maximises nucleic acid bioavailability.
Sonrai Analytics— Automate laborious data processes, harness Artificial Intelligence, and speed up new drug & healthcare developments.
Northwest
iiCon— Bridging the gap between industry, academia, and the NHS, to accelerate the discovery of innovative new anti-infectives, diagnostics, and preventative products.
LSTM— Liverpool School of Tropical Medicine (LSTM), founded in 1898, was the first institution in the world dedicated to research and teaching in the field of tropical medicine.
Alderley Park— Part of Bruntwood SciTech. Home to world leading science and Innovation.
Pedanius Therapeutics— Developing Antisense Oligonucleotide Precision Medicines focused on Infectious Diseases
The UK's largest single site life science campus.
Evotec— Evotec's mission is to discover and develop highly effective therapeutics and make them globally available to the patients who need them.
Bactivac—Bringing together academic, industrial and other partners involved in vaccine research against human and animal bacterial infections
Tabrix— Develops anti-virulence drugs for the treatment of drug-resistant infections, specialising in the treatment of TB.
Southwest
Fluoriteq— Revolutionising bacterial diagnostics. Nanoplex technology enables identification of infection within 15 minutes.
Charles River—Charles River has a strong drug discovery background in infectious diseases and the assessment of novel antimicrobials, antivirals, and vaccines using established in vitro assays and in vivo models. Their in-house expertise enables them to work with clients in designing experiments, optimally, to determine the efficacy of anti-infectives.
Scotland
Microplate Dx— Microplate Dx's mission is to vastly reduce deaths from drug-resistant infections by tackling the global threat to public health of antimicrobial resistance (AMR) and prolong the lifetime of our most treasured antibiotic stocks
West of Scotland Science Park— A hub for a wide range of companies from life sciences and technology sectors.
Biocity— The life science incubator for Scotland. We create the right environment for life science start ups with ambition.
Edinburgh bioQuarter— Edinburgh BioQuarter is a leading global destination for healthcare delivery, groundbreaking medical research and life sciences innovation.
ODx— Rapid antibiotic susceptibility testing.
Northeast
MetalloBio— Researching and developing antimicrobial drug treatments.
Antibiotic Research UK— Founded in 2014 to tackle antibiotic resistance. A 'virtual' charity, which allows them to spend more of the donations on research into new antibiotics, and means world-class experts can be an integral part of the work, wherever they are based.
Southeast
Lifearc— A self-financing medical research charity with the ambition is to transform the way diseases are identified and treated.
Oppilotech—Providing insights into treating diseases with predictive computational modelling platform.
Paragraf— develops graphene-based electronic devices using contamination-free technology with applications in sensor markets.
Destiny Pharma—A clinical phase biotechnology company dedicated to the development of novel anti-infectives with a focus on infection prevention.
Qures—Developing a new class of treatments. PostABR®