Blog by Ambassador Jorge Almeida
23 January 2023
This blog by Prof Jorge Almeida from Mexico is the first blog in a new series by AMR Insights Ambassadors. 
Jorge Almeida is currently a professor of Biochemistry and Molecular Biology at the School of Medicine of the University of Ixtlahuaca CUI, as well as a professor of Microbiology, Pharmacology, Biochemistry and Organic Chemistry of the Bachelor's Degree in Biological Pharmaceutical Chemistry, Biological Agents in the Bachelor's Degree in Nutrition both from the University of Ixtlahuaca CUI. He also serves as a professor at the UM School of Health Sciences in Clinical Biochemical Analysis and Parasitology. He is responsible for Pasteur laboratories and hospital consultant in antimicrobial pharmacotherapy.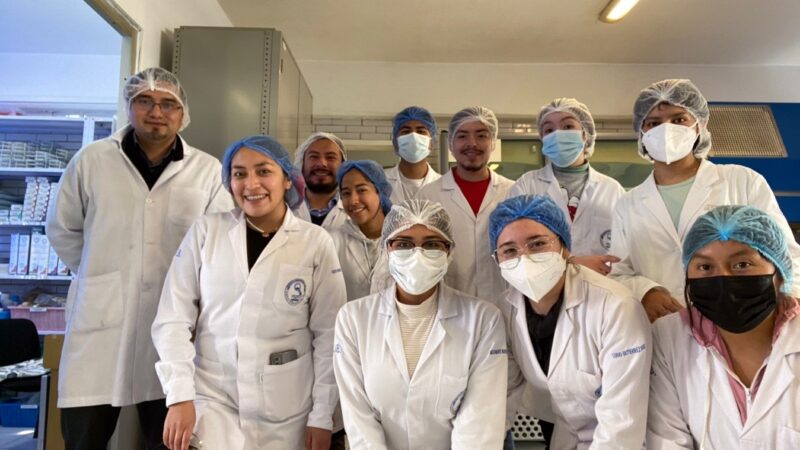 His passion for microbial resistance to antimicrobials arises in the development of his degree project, where a review of the literature reported in 2017 by the World Health Organization a list of 12 super bacteria, which would undoubtedly reach us at any time. moment, and that as it was estimated at that time, this phenomenon would become one of the main causes of death in the year 2050.
From his trenches, he has dedicated his research into two aspects of resistance, one is the design, synthesis and evaluation of molecules as Quorum sensing inhibitors, a novel strategy in the treatment of bacterial infections by microorganisms resistant to antibiotics. Where I work with a world leader in the subject, Doctor Rodolfo García Contreras from the Faculty of Medicine and Doctor Luis D. Miranda from the Institute of Chemistry of the National Autonomous University of Mexico, molecules called pyrazinoisoquinolines and isoquinolines were evaluated, which showed important results and earned them to be awarded the National Prize of Pharmaceutical Sciences "Santiago Maza" by the Mexican Pharmaceutical Association. He currently continues to develop molecules and reposition drugs for off-label use, such as Quorum inhibitors and the use of plant essential oils as microbial growth inhibitors, together with Researcher Gabriel Martínez from the University of Ixtlahuaca. The other point of his research is epidemiological studies of resistant microorganisms and the phenotypic mechanisms of resistance expressed, research that he carries out in the community and in hospitals.
One more aspect that he works on is the dissemination of the importance of antimicrobial resistance, where in hospitals, universities, organizations he has stood out at the national level as a speaker and promoter of the fight against resistance.
He is vice president of the International Society for Action Against Antimicrobial Resistance, Member of the British Society for Antimicrobial Chemotherapy and has the "José Ma. Faus Dader" Chair of Pharmaceutical Care at the University of Granada Spain and AMRI global ambassador
Antimicrobial resistance is a serious public health problem, which increases mortality and morbidity in people, both those who acquire an infection in the community such as a simple cystitis, skin infection, and those patients who acquire a nosocomial infection such as Associated with mechanical pneumonia, bacteremia or sepsis, this due to the high resistance that microorganisms present to pharmacological treatments.
Despite the fact that microbial resistance is a natural phenomenon, there are situations that have accelerated it, such as the inappropriate use of antimicrobials both in humans and in livestock, and a recent one, it was thanks to the Covid-19 pandemic that has intensified the resistance and forecasts that exist for the year 2050, which makes them look much closer and with results that are above discouraging.
Despite the fact that antibiotic resistance is perhaps the most talked about topic in this regard, it is not an exclusive phenomenon of bacteria. Well, in recent years, yeasts such as Candida auris have been a cause for health alarm since it is a highly resistant microorganism, that is, currently no antifungal on the market will have the capacity to eradicate it when it causes an infection in the organism. On the other hand, other Candida species and filamentous fungi are also increasing with their resistance patterns.
Resistance to antiretroviral treatment for people who are HIV positive is also a major challenge, since the high mutation rate of the retrovirus has conferred resistance to treatment that leads to treatment failure and an increase in viral load, in addition to a decrease in CD4+ count. Another virus that has been shown for several years now is the Influenza virus, which shows a high rate of resistance to amantadine and also to oseltamivir, first-line drugs in the treatment of influenza A and B. This complicates health of patients with both diseases and the patient's prognosis decreases.
However, of the more than 5 million reported deaths from infectious diseases, there are estimates of more than one million deaths a year caused by infections resistant to antibiotic treatment, and these bacteria have been classified by a World Health Organization list. In 2017, where he groups them according to the urgency and need for treatments to combat them, where the first two places are Acinetobacter and Pseudomonas aeruginosa, bacteria that are also already pan-resistant.
In addition to the high number of deaths generated by resistance, other factors that make it a crisis is the increase in the costs of hospital care, which in those countries where the public health system covers the costs, this implies an increase in employment. Of the gross domestic product budget, which could have been used for other purposes.
On the other hand, resistance has caused the large pharmaceutical laboratories to stop developing and producing new treatments, since the economic return is not viable for them. So the picture looks increasingly complicated.