DATA TECH HOTSPOTS UK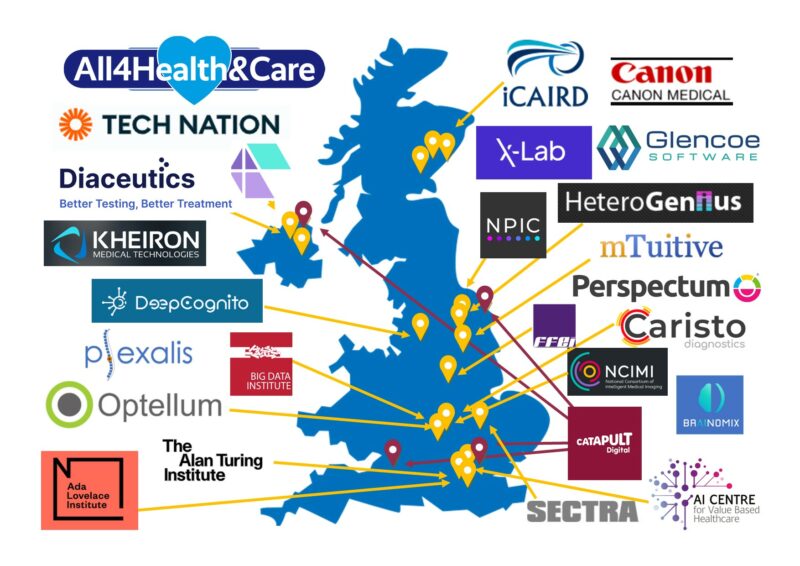 Ada Lovelace Institute — An independent research institute with a mission to ensure data and AI work for people and society.
All4Health&Care — A volunteer group of digital health and social care leaders helping to get the right healthcare tech to the right place.
Ampliphae — An intelligent cloudmanagement solution built on artificial intelligence and machine learning.
Big Data Institute — Interdisciplinary research institute that focuses on the analysis of large, omplex, heterogeneous data sets for research into the causes and consequences, prevention and treatment of disease.
Brainomix — Brainomix specialises in the creation of AI-powered imaging biomarkers to enable precision medicine for better treatment decisions.
Canon Medical — Canon Medical's vision for AI in healthcare is the application of machine learning techniques to rich medical datasets to positively impact patient outcomes.
Caristo Diagnostics — Caristo Diagnostics provide advanced solutions for personalized cardiovascular risk prediction.
DeepCognito — State-of-the-art text analytics technology to solve big data science problems across information and decision support systems.
Diaceutics — Helping patients to receive potentially lifesaving medicine through better diagnostic testing, is collaborating with computer hardware manufacturer Lenovo, and chip manufacturer Intel.
Digital Catapult— The UK authority on advanced digital technology. Accelerate industry adoption to drive growth and opportunity across the economy, through collaboration and innovation. Specialist programmes and experimental facilities to ensure innovation thrives and the right solutions make it to the real world.
FFEI—A leading developer, manufacturer and supplier of digital imaging solutions within the graphic arts and life science industries.
Glencoe — Image database technologies allow you to view, share, annotate and even analyse large image files anywhere within a single software interface.
Heterogenius — Specialising in bespoke and off the shelf software solutions in Digital Pathology, Medical Image Analysis, Machine Learning and Data Mining.
I-CAIRD (Industrial Centre for AI Research in Digital Diagnostics) – A world-class centre of excellence focusing on the application of artificial intelligence to digital diagnostics. iCAIRD works to bring clinicians, health planners and industry together, facilitating collaboration between research-active clinicians and innovative SMEs to better inform clinical questions, and ultimately to solve healthcare challenges more quickly and efficiently.
Kheiron Medical Technologies — Transforming cancer diagnostics through the power of deep learning.
London Medical Imaging & AI Centre for Value Based Healthcare— Train sophisticated artificial intelligence algorithms from NHS medical images and patient data to provide tools for clinicians to speed up and improve diagnosis and care across several patient pathways including stroke, dementia, heart failure and cancer.
mTuitive — Provides expert guidance, error checks, automatic calculations and more to keep facilities compliant with standards and protocols while improving patient outcomes.
National Consortium of Intelligent Medical Imaging (NCIMI) – A partnership between NHS trusts, companies, universities, charities and patient groups coordinated by the University of Oxford. Use de-identified patient data coupled to clinical insight, to support the development, validation and deployment of medical imaging AI to improve patient care.
National Pathology Imaging Cooperative (NPIC)—Aims to deploy digital pathology to the NHS and use it to develop artificial intelligence to improve diagnosis. Based out of the Leeds Teaching Hospitals NHS Trust. The consortium is a globally-leading centre for applying artificial intelligence (AI) research to cancer diagnosis. 
Optellum — Optellum enables lung disease patients to be treated at the earliest stage and cured. 
Pathology image data Lake for Analytics, Knowledge and Education (PathLAKE) – PathLAKE will deliver high-impact exemplar projects reflecting today's demand for AI-driven diagnostics to increase efficiency in pathology reporting and improve patient outcomes through advanced diagnostics and selection of patients for personalised medicine.
Perspectum — Perspectum delivers cutting-edge digital technologies that help clinicians provide better care for patients with liver disease, diabetes, and cancer. With a strong focus on precision medicine using advanced imaging and genetics.
Plexalis — Plexalis focuses on products and technology in the area of chronic back pain and related spinal conditions.
Sectra — With solutions and services for medical imaging IT and cybersecurity, Sectra helps hospitals worldwide to enhance the efficiency of care, and critical social functions, authorities and defence forces in Europe to protect society's most sensitive information.
Tech Nation — Tech Nation is the growth platform for tech companies and leaders.
The Alan Turing Institute — The UK's national institute for data science and artificial intelligence.
X-Lab—X-Lab develops software for the healthcare sector, such as NPEx which is software designed to connect UK pathology laboratories together through one digital hub.